A B O U T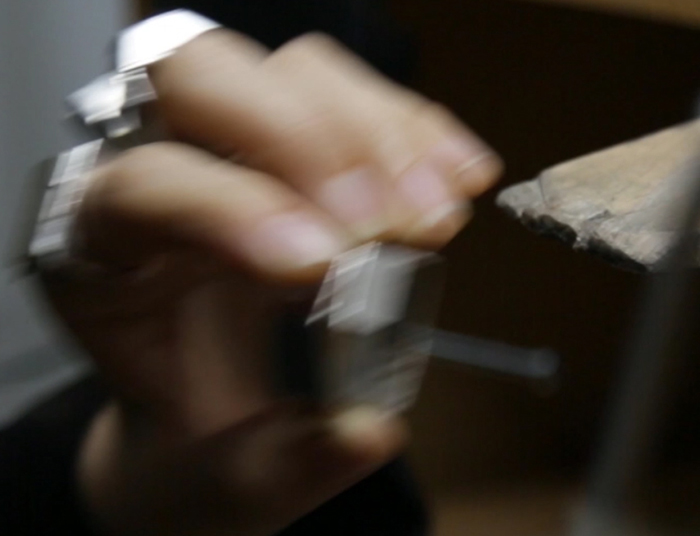 s h a p e + s p a c e + l i g h t + s o u n d
The fluidity of form of Stephanie Said's jewellery often begins with the movement and folds of a simple piece of paper. She began using this blank slate as a starting point during her Bachelor's degree in Fashion and Textile Design, after which she worked for Australian fashion luminaries such as Akira Isogawa. In 2007, she began to delve into her sub-major of Jewellery Design by creating moving minimalist pieces for herself and loved ones and released her first collection in 2013.
Stephanie Said now designs unisex jewellery collections and bespoke commissions from her Sydney based studio; a glass house nestled amidst the city's skyline. From here, simple yet complex forms are engineered with a focus on movement, minimalism and geometry. Light, line, proportion and function are considered to create her unfamiliar futuristic aesthetic.
c o m m i s s i o n s —
Stephanie Said strives to create jewellery that is from the heart and which deepens relationships with self and others. You are invited to meet Stephanie in her studio or via phone / video call at any time to discuss a bespoke piece, view the collection, or try on for sizing.
Email s@stephanie-said.com to book an appointment.
c o n c e p t —
Stephanie Said pieces are inspired by rhythmic repetitions and geometries; from the organic to inorganic within the realms of architecture and sculpture to dance and music. The pieces embrace movement with the body to harness musicality and light, which push the boundaries of modern jewellery through their sculptural alien forms.
Each design is crafted with a desire to create meaning, a virtue that the wearer connects with. Time is allowed for each design to evolve and be refined to a pureness and strength in its final form. These composed forms allow new motifs to be created; engineered hinges give way to apertures of skin and bold geometries are embedded with diamonds subtley exposed. Obsessed with movement, silver and gold is designed to move in ways it otherwise wouldn't. Things at first unseen become noticed; secrets the owner unravels through wear.
t e c h n i q u e s —
Stephanie Said jewellery requires the highest quality traditional gold-smithing techniques which sits alongside new technologies of industrial design. Each piece is invested with time; a prototype can take up to a year to form, as it is a study in proportions, balance and space in the way that it moves and lingers on the body.
Precision is required for each piece to work, as complex hinges take on functions not normally considered. These form morphing shapes that must have the right movement for the wearer's comfort and the jewel's longevity.
Finishes in matte yellow and rose gold appear nude against the skin. Oxidised blackened silver sculpts heavier shapes and mirror polished silver demands attention, while matte silver, platinum or white gold harnesses the feel and colour of concrete.
s u s t a i n a b i l i t y —
By using a minimum of fifty percent recycled metal and locally sourced Australian Argyle Diamonds, Sapphires or other origin known gemstones, Stephanie provides an opportunity for her clients to indulge with awareness and support hand-made Australian design.
i n f l u e n c e s —
principles of geometry – shape - space - symmetry - repetition - proportion - balance

form – snøhetta - hiroshi sugimoto - tony cragg - tony smith - constantin brâncusi –

sound – alva noto - bach - ryoji ikeda - philip glass - steve reich - ryuichi sakamoto

exploration – rei kawakubo - michael börremans - snøhetta - azuma makoto - donald judd

movement – anne teresea de keersmaeker - william forsythe – masahiko sato - lygia clark
light + dark – scott lowe - toshio shibata - jack davison - duane michals - tokujin yoshioka

perspective – carlo scarpa - tadao ando - louis kahn - kengo kuma - michael zelehosk